Hi! I can't believe I have never shared this salad before. It is one of my favs! Its a classic salad but done healthy style!
I know I post a lot of smoothies and fruits but greens and potatoes, soups and meals are also a big part of a plant based diet too which I looove! If I am being perfectly honest the only reason I don't post more meals is because by the end of the day my camera happy radar is put on the back burner and getting meals done and homework done and just playing with my kids is my night time whirl! But I am working on a cook book! And have been writing down all the meal recipes once and for all! 🙂 There are so many amazing accounts and recipes out these days! Its amazing to see the creativity and love people are putting into health food! Health food should never be a sacrifice! It should be exciting and flavorful and it seems thats popping up more and more which is awesome!!
Speaking of flavor bursts lets get into this salad! This one is so fun! The dressing you make for it (Linked below) can be made and stored in the fridge and used for all sorts of things! I will show you how to make it a dip or transform to a dressing and can be used on most anything like Tacos, a veggie dip, in pitas, on potatoes, salads.. roasted veggies…etc. Recipe below!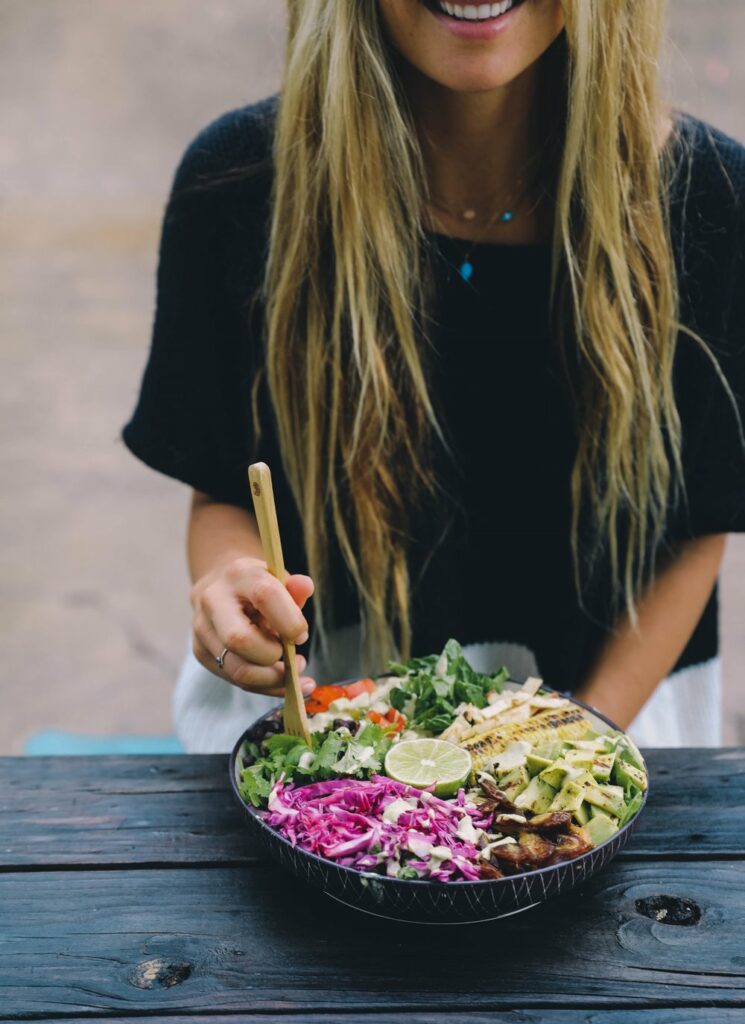 Ingredients:
2 Heads of Romaine
1/2 Bunch of fresh Cilantro Chopped
2 Avocados
1/4 Head Purple Cabbage Chopped Thin
2 Tomatoes Cubed
6 Dates Chopped Lengthwise
2 Ear Corn Roasted Corn
4 Corn Tortillas (or corn chips)
1 Cup Cumin Black Beans (link to recipe)
2 Fresh Lime
1/2 Cup Cashew Cilantro Cream (Link to recipe)
2 Tablespoons Apple Cider Vinegar
2 Tablespoons Lemon Juice
1/4 Teaspoon Red Chili Flakes (less if you don't like spicy
Ingredient Prep:
TORTILLA STRIPS: In a small pan turn to high heat and crisp both side of corn tortilla. 30 seconds to 1 minute or until golden. Remove and place on towel to let cool. Cut into thin strips.
CORN: Use a pan and place on high over the stove. After shucking the corn place directly on to the pan. Let the corn blacken slightly on all sides. You can cut the corn in half lengthy wise or run a knife from top to bottom to take the corn off.
AVOCADOS: Slice open avocados and cut slices 1/2 inch thick lengthwise. Place on a plate flat and squeeze a full lime even on all the pieces. Season with salt and pepper. Heat grill (if you don't have a grill a pan can work) to high. Place avocados gently onto the grill make, cook on both sides for 15-30 seconds (longer for electric grills). Once avocados are done they will have nice blackened grill marks. Once done remove from grill and chop avocados into 1/2 inch cubes.
SALAD BUILD
Chop heads of Romaine in evenly and place in bowl
Add chopped cilantro, red cabbage, beans, tomatoes, avocados, corn, dates, tortilla strips into their own corners of the bowl
Drizzle salad dressing over top, mix up and ENJOY!