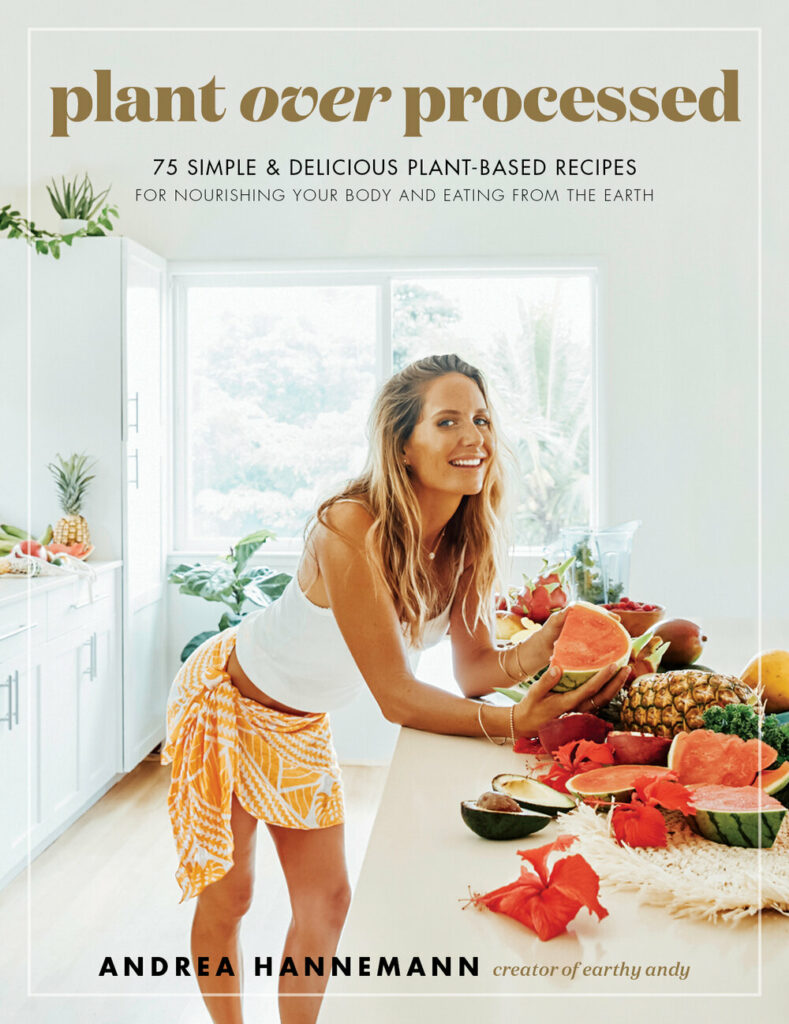 I believe that food is the fuel of life, and that consuming a nourishing, plant-based diet is the gateway to ultimate health. "Plant over processed" is my mantra, and it guides the way that I eat and the way I feed my entire family in our home in Oahu, Hawaii.
But it wasn't always this way. I was once addicted to sugar and convenience foods and suffering from a host of health issues that included IBS, Celiac disease, hypothyroidism, asthma, brain fog, and chronic fatigue. Fed up with spending time and money on specialists, supplements, and fad diets, I quit animal products and processed foods cold turkey, and embarked on a new way of eating that transformed my health and my body. And I want to share what I've discovered with you!
In this book, I invite you to join me on a "30-Day Plant Over Processed Challenge" that will detox your body, followed by a long-term plan for going plant-based without giving up your favorite dishes. This book is packed with my favorite recipes—from smoothies and bliss bowls to plant-based comfort foods and decadent desserts— along with some killer photos, and plenty of practical tips for healthy living. I truly hope that this book will change your life. I want to inspire you with the sights and flavors of Hawaii's North Shore, and to show you how easy it is to eat plant-based, wherever you are!
Xo,
Andy
F I N D I T H E R E
U N I T E D S T A T E S
O T H E R I N T E R N A T I O N A L
A U S T R A L I A
U N I T E D K I N G D O M
C A N A D A
F R A N C E
N E W Z E A L A N D
G E R M A N Y
S P A I N
N E T H E R L A N D S
I T A L Y
S O U T H A F R I C A
B R A Z I L
I N D I A
F O R R E T A I L E R S
If you want to sell the book and make a bulk order for resale please email: Matthew.Perrino@harpercollins.com
HAVE YOU PREORDERED OR ORDERED THE BOOK? IF YOU HAVE I AM GIFTING MY IMMUNE BOOSTING MINI E-BOOK. JUST TAKE THESE 3 SIMPLE STEPS AND RECEIVE THE BONUS MATERIALS IN JUST MINUTES!
Email: aloha@earthyandy.comwith the subject line: SEND ME MY BOUNS! Include a screenshot of your confirmation in the email or if you bought the book at a store take photo of your book and include in the email.
In a few minutes you'll receive an email providing a link to fill out your name and where you purchased Plant Over Processed from.
After completing the form, click "submit" and you will receive the mini IMMUNE BOOSTING ebook via email within a few minutes!
ENJOY & MANY MAHALO'S!