If you are in the mood for something rich, peanut butterly delicious, want the indulgence of something that feels naughty but actually is nice, try whipping up this vegan- not so vegan tasting shake!  If you're craving a shake or icecream, try this. It could be your forever replacement to those heavy, processed calorie packed versions 🙂
PS For those asking about my blender, I have used a Vitamix for over 10 years. I had the 5200 Standard Series. Any model I have had is awesome and will give you that ice-cream texture you want! I gave my first one away to a friend to help her stick to her health change. It was 8 years old and still worked perfectly! I now have a couple because Vitamix has sent me a few to try in the past two years. I use them for events and at home Im pretty sure the neighbor kids and our friends look at me and see a big smoothie bowl so I use them a lot! haha. Currently I use the Professional Series 750 in Champagne color. 🙂 I also have the Ascent A3500 which is their newest model and just a beast!!
If you want to get one the code 06-031 gives your free shipping which can be sometimes $60.
If you want to save some money, Vitamix has a refurbished section. They also have a payment plan and their warranty plan is like 5-7 years or something like that. Its the only kitchen device we really have.  Also! Sometimes on craigslist  you can find them used for way cheap as well! Anyway, I hope this helps! My inbox is full of messages for this very thing haha. Its worth it… Its an investment into your health. It brings joy….haha! Okay! It's 5am and I am rambling… lets get on to this recipe! Find Below! Tag me on Instagram (@earthyandy) if ya make it! I like see 😉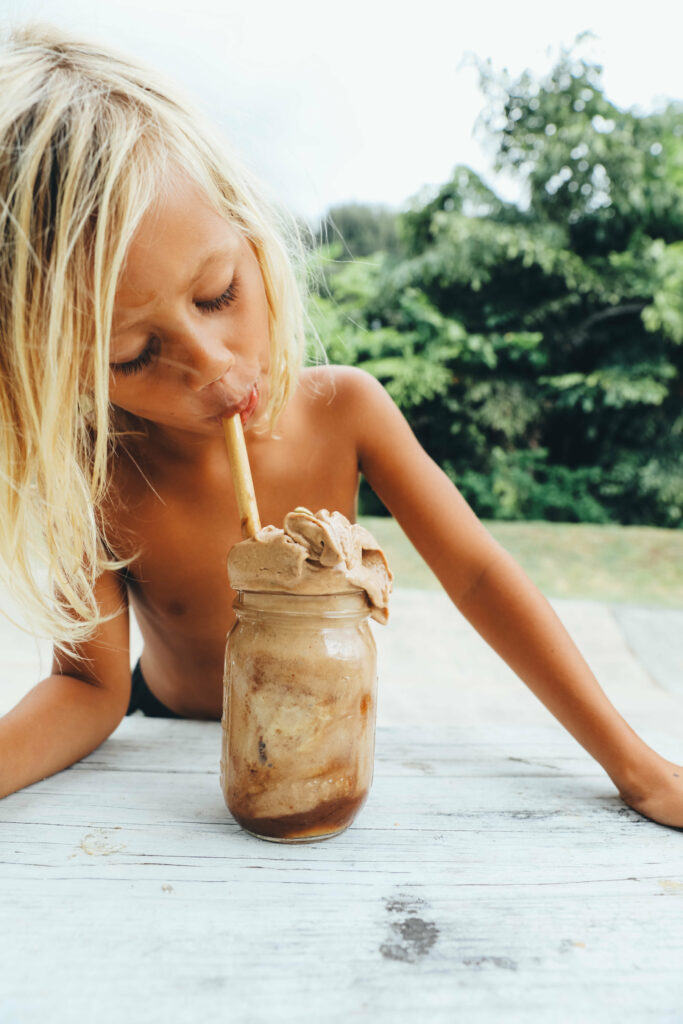 RECIPE: Peanut Butter Chocolate Mood
(makes 2) – try to use organic ingredients.
8 frozen Almond Milk Ice Cubes (I always have these made in my freezer). Simply freeze your favorite almond milk into ice cubes and store in an airtight container.
*(OR for a slightly creamer version use 4 canned coconut milk cubes and 4 almond milk cubes)
2 large ripe frozen banana
2 medjool dates ( or tablespoon of coconut sugar)
1/4 cup natural peanut butter (or peanut butter powder )
1/2 teaspoon vanilla extract/or 1 vanilla bean
1 rounded tablespoon cocoa or cacao powder
optional* smallhandful of vegan chocolate chips or koko samoa or cacao nibs)
Blend and mash together until thick and creamy! As you can see there is no liquid ingredients and that is on purpose. Sometimes it helps to let defrost slightly or feel free to add a little more almond milk or a fresh banana if you do not have a strong blender:)
The coconut sugar or dates and the vanilla help give a warm toffee caramel undertone while the peanut butter makes it feel and taste rich! You can add cocoa powder as well for an added chocolatey flavor or leave it out! Its two different shakes just by doing that!
If you make it, let me know by tagging @earthyandy via insta story or on the picture! I always love love love seeing what all ya are up to!
Much Love!
Andy xo