How To Build A Smoothie Bowl From Start To Finish while demonstrating a few simple ways to cut fruit aesthetically as we create a fully loaded mouth watering and very healthy pretty bowl filmed by my good friend and award winning surf cinematographer @lieberfilms. Aaron has been kind enough to show me some of his tricks to make videos simply so that I can create more recipe tutorials to share with you! Thank you Aaron! It should be fun…haha!
Smoothie Bowl Time!
*If you have never made a smoothie bowl or not sure how to get that desired thick and creamy consistency this video will help you do that. A good blender or food processor definitely helps. Vitamix has been our choice blender for 10 years now and still going strong – (if you're interested this code here will give you free shipping 06-031.
Ingredients:
2 Frozen Banana
1/4 cup Almond Milk
1 cup Frozen Blueberries
1 Generous Teaspoon Raw Maqui Sunfood Powder (optional) – acai powder or frozen packet is great too or eliminate all together.
1 Fresh Juicy Mango or 1/2 cup frozen
Method:
Simply add all ingredients to a blender
Blend and mash repeatedly until you see a thick and creamy smoothie swirl.
Pour into two bowls and top with your favorites!
Enjoy !
Some of my favorite toppings as presented in this video: fresh mango, banana, strawberries, pitaya, rambutan, raw coconut shreds and vegan fudge!
---
Raw Macqui Powder:
In Case you have never heard of Raw Maqui Powder before it is simply a nutrient dense super food powder that can easily be added to smoothies, nicecreams, and drinks. I have been using it for years now and we love it. Our favorite and most trusted brand is Sunfood Superfoods. The pretty purple color alone is worth using it 🙂 Here are some of the benefits if yours interested….
Benefits:
Vitamin A which may contribute to healthy immunity, vision, bone health and cell integrity
Vitamin C which may function as an antioxidant as well as contribute to healthy immunity and bone health
Vitamin B1 which may contribute to mental function and metabolism
Vitamin B3 which may help regulate metabolism and support normal cell growth
Magnesium which may contribute to normal bone health and immunity
Calcium which may assist in supporting strong bones
Potassium which may help maintain normal blood pressure in combination with a low sodium diet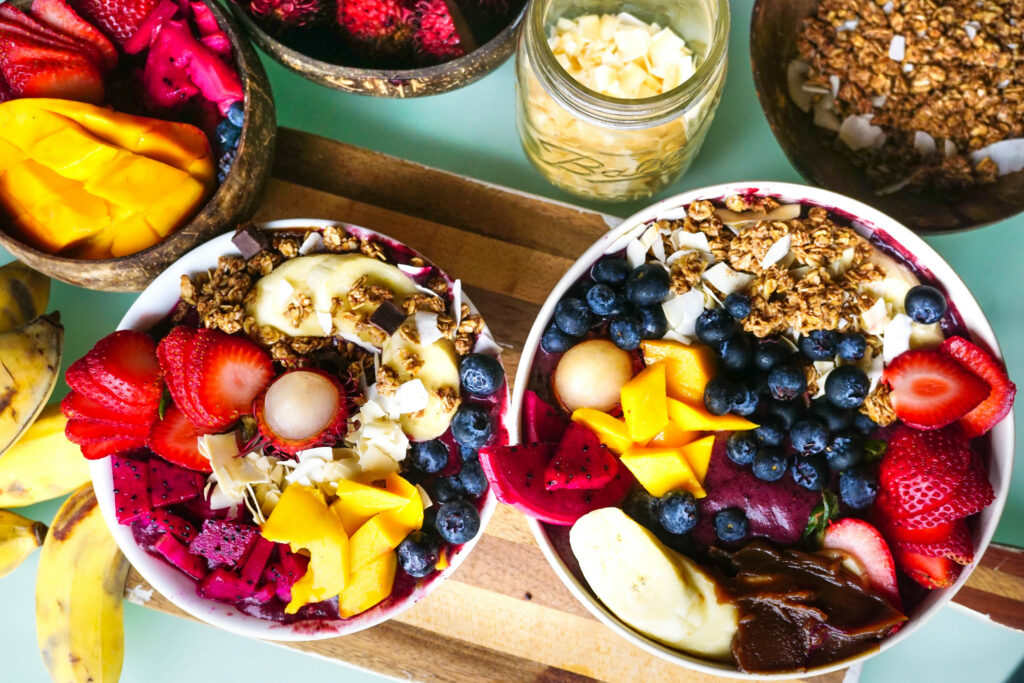 Aloha! I love seeing your creations and learning from you so if you want to share, tag @earthyandy ! Have a beautiful day!
A fully loaded mouth watering and very healthy Raw Maqui Sun food Smoothie bowl recipe, it's so simple and easy to make!