My kids wanted to make up a recipe this morning before school and this is what they came up with… they are calling it the "PURPS STORM"! haha I love it! Purps is a healthy drink that their surfing idol Kelly Slater makes so its "SO cool mom" haha! So Tama and Ira made the "storm part" by taking frozen blueberries, frozen banana and some purps and I helped blend it together until smoothie like. And then to make the "clouds" they wanted white so we used frozen bananas, and nut milk, a dash of vanilla and a tiny but of coconut sugar. It was so good! And when they swirled it together it was like a crazy "tornado storm". Kids are so awesome.. and this drink was super good!! I find it so effective to have kids help in the kitchen. They are way more interested in foods if they feel they are apart of it and get to do the fun stuff like scooping and pouring and even creating. If you don't have purps blueberries work awesome, acai or maqui powder all work wonderfully, and help get in those nutrients and get that "purple storm effect". Recipe below!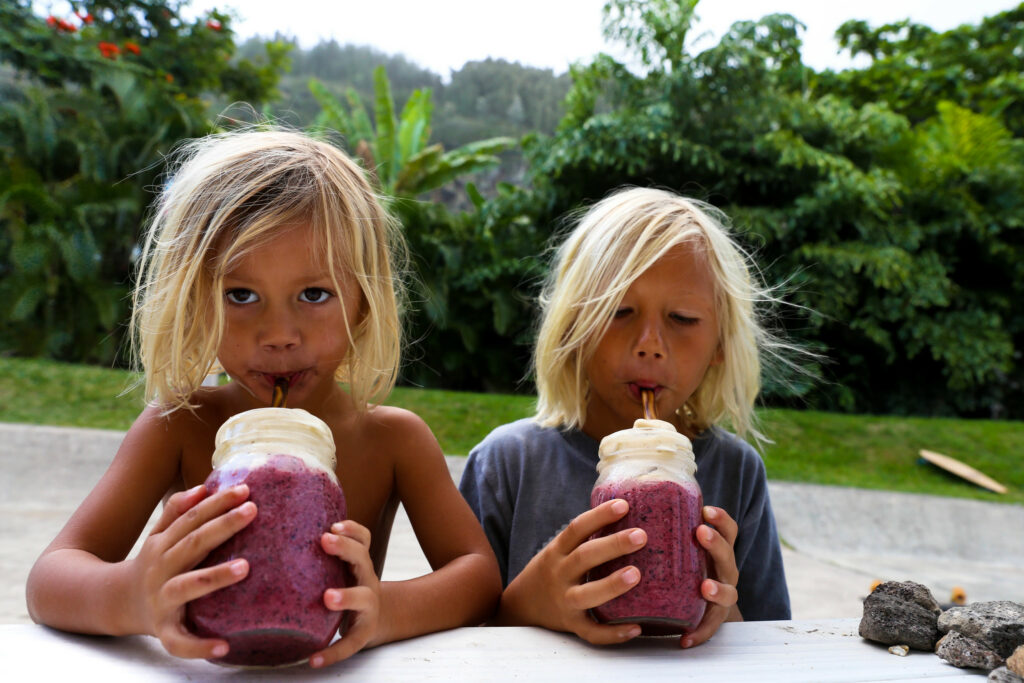 I N G R E D I E N T S – P U R P S S M O O T H I E
4 frozen ripe bananas
1 cup frozen blueberries
1/4 cup Purps drink (or maqui, or acai, or just nut milk)
Blend until nice and smooth, pour in jar or glass leaving a little space and put in the freezeruntil you do the "coulds!"
I N G R E D I E N T S – C L O U D
2 frozen ripe bananas
1/4 cup nut milk
pinch of coconut sugar or sweetener if you want and a dash of vanilla
M E T H O D
Blend until smooth! Put the "Storm" in a jar or glass" and then the "Clouds" on top and enjoy! Swirl together with a spoon or straw to make tornado's and crazy storms 😉
Enjoy the laughs!! Have a beautiful day!
Andy XO