We traveled to Dubai as a family just a couple weeks after school had let out for the summer. We showed the boys where we were going and they were so stoked! We had the cool opportunity to partner up with Visit Dubai (the tourism bureau for Dubai) to show all the fun things that Dubai has on offer for families with children of all ages. We started to research things that we wanted to do and the list was endless! We did so much and stayed in some really cool places so I want to share our favorite highlights.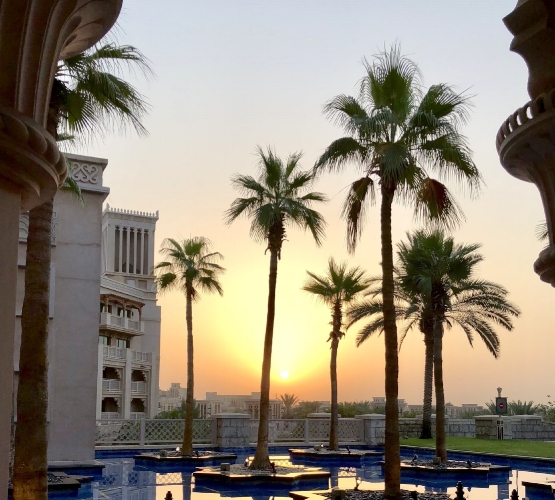 STAY
When we arrived in Dubai it was early in the morning and the sun was just coming up. The desert sun rising is something we have never experienced and there is a beauty to it that is stunning. We stayed at the Jumeriah Al Qasr, meaning palace and it felt exactly like that. Built after the traditional style of middle eastern palaces it was like walking into a palace of a sheik with the ornate mosaic tile work and the high standing columns there is just so much detail put into this beautiful hotel. We stayed in one of the summer houses just overlooking the canal that runs through the property. Getting around is so fun for the kids as you can take abra's (traditional style small electric boats) through the canal to the many restaurants, beaches and activities anywhere on the property.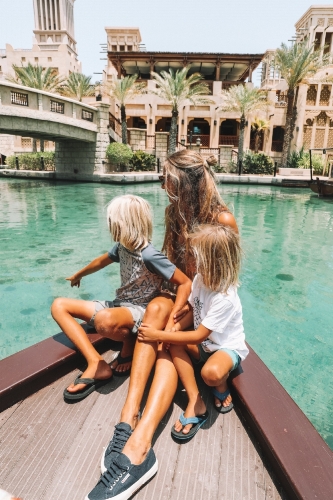 P L A Y :
The desert safari with Platinum Heritage was absolutely incredible. This experience was exciting and really fun for the whole family. The tour starts through sand dunes in a nature preserve and the guides explain the history and animals of the area. In the evening there is a dinner where traditional cuisine is prepared under the stars. Each dish is prepared over open fires and there is a tasting and presentation of the food. You can eat under the stars or under the tents where there are tables and soft cushions. All the food is so delicious and there are plenty of plant based options! This is an experience that is really fun and very interesting for the entire family.
This was kind of a surreal experience. The temperature while we were in Dubai was about 39C the whole time. When we got to Ski Dubai, inside where the ski slope is the temperature is about 2-3C! It's crazy to think that you can be in the middle of the desert and then you can go toSki Dubaiand be playing in the snow. It even has the whole mountain lodge feeling with little cafe's selling hot chocolate and snacks. There are quite a few activities inducing Zorbe rolling, a "bobsled" like sled track, rock wall, full ski slope for skiing and snow boarding.
While we were staying at Jumeriah Al Qasr the waterpark is just a 5 minute abra or cart ride to the waterpark. Staying at Al Qsar you have unlimited access to the park and you can come and go as you please. The moment we arrived the boys saw the slides and they wanted to go immediately! We spent the afternoon here and it was hard to leave because the water is so refreshing and the kids were having such an amazing time. There are so many slides and attractions for all ages. They have 2 different flow riders that are free with admission, a kiddy water playground and enough things for our whole family that we could have spent a few days there.
EAT:
This is a cool little spot that feels like stepping into Hawaii or Bali when you walk through the door because of the island feel and music. The cafe serves fresh acai bowls and smoothie bowls along with a breakfast and lunch menu. Their food is so good and the kids were so happy to get acai bowls to cool down. We also ordered their gluten free and vegan waffles that were so delicious! We didn't know that Dubai has a full surf culture and the Surf Cafe was started by the Surf House which was the first surf shop in Dubai. The owners are really nice people and they even set us up to go for a paddle on their stand up paddles after we ate breakfast. Great stop for the family as the beach is just down the street and a a skate park right around the corner from the shop!
We had a chance to eat at a lot of cool spots but our favorite was this place. From the outside it looks like an ordinary industrial building but when you get inside its decorated really cool and the vibe is really mellow. Tom & Serg offer up a variety of different foods serving breakfast and lunch. There are some great plant based and gluten free options that are fresh made and so delicious. Their cold pressed juices and signature smoothies are amazing.
This was a pretty rad experience. The chef came to talk to us when we arrived and he was so nice and sweet. He told us how he has been experimenting with GF vegan pizza. He said we wasn't quite ready to put it on the menu and wanted honest feedback on how the pizza was. He has a real passion for food and what he is doing and wanted to make sure if he put on the menu people would love it. It was honestly so amazing and hands down best pizza I have ever had. The crust was light and soft and the tomato sauce was incredible and everything was made in house except for the vegan cheese. The portion sizes are very filling and the flavor of all the food is so fresh.
With all the fun, food and activities aside this was a great experience for our entire family. We met some really good people who came to Dubai from all over the world to make it their home. We learned so much from them and how life is in Dubai and how happy they were to be there. We also gained a better understanding of the middle east and the culture and we are excited to come back to this region again! We loved our time there and Ira asks to go back almost everyday!